SUZUKI Iwane
Advisor to the President (Specialty: Environment)
Committee Chair, Tsukuba 3E Forum
Professor, Faculty of Life and Environmental Sciences
Tsukuba 3E Forum,
The Future of SDGs and Energy Production
Biomass Energy Reproduction: The Key to Achieving 2030 Objectives
Tsukuba E3 Forum and Selection as a SDGs Future City Tsukuba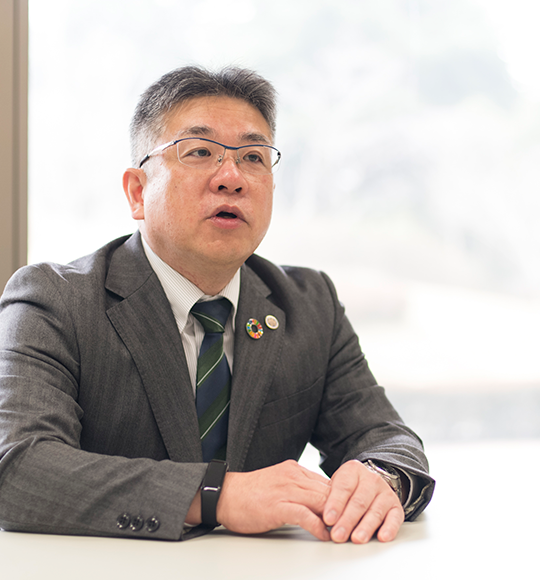 SDG Initiatives and the Tsukuba 3E Forum
The Tsukuba 3E Forum was founded in 2007 with the goal of cutting CO2 emissions in the city of Tsukuba by 50% by 2030 and is involved in collaborative activities between the University of Tsukuba and other research institutions as well as local government.
The three factors of energy, environment, and economy must be balanced to achieve an energy-efficient and low-carbon society. If any one of these three factors is not handled, the goal cannot be achieved, so, in the 3E Forum, we are currently working in three task forces. The Next-Generation Energy Systems Task Force proposes ways to implement hydrogen energy, the Biomass Task Force is involved in the production of fuel using algae and other hydroponic culturing as well as other environmental protection related to agriculture, and the Urban Structure and Transportation System Task Force promotes the use of public transportation. These three groups work with local government and corporations to reduce CO2 emissions in the city of Tsukuba.
The Tsukuba 3E Forum holds the Tsukuba 3E Forum Conference for the general public every year in January. Held for the 12th time in 2019, this year's main theme was the 3E of SDGs. SDG initiatives involve the three pillars of the Tsukuba 3E Forum, environment, energy and economy, and are recognized as playing a vital role in fulfilling SDGs as promoting by the forum.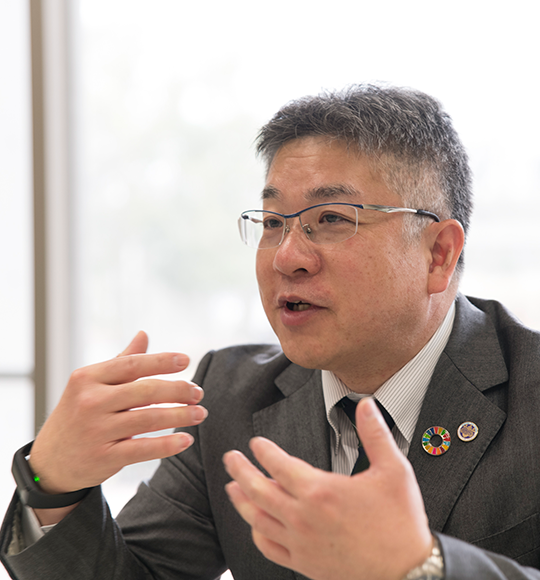 Algae Biomass Energy Reproduction
To achieve the Tsukuba 3E Forum's goal of cutting the city's CO2 emissions by 50%, fossil fuel consumption needs to be reduced while also developing renewable energy (resources). In order to make it possible to create an energy replacement for oil across the globe, there is no option other than biomass production. One topic the forum's Biomass Task Force has focused on is systems for utilization of algae energy. These efforts are geared toward reproduction of energy resources rather than simply recycling them.
Specifically, we are aligning sewage and drainage treatment with algae energy and agricultural production. Sewage is normally treated by investing energy in the process, but there is potential to use the characteristics of algae to produce energy. If we can combine algae cultivation with sewage treatment to produce oil from the algae and implement new tests for its use in processes such as sludge incineration, it will lead us to the acquisition of a new energy resource that will quite possibly enable us to create a low-carbon society.
If we compare it to the water cycle, it would be like producing energy from the furthest point downstream, and that energy is the rain that falls upstream. This epoch-making project is about the generation of energy itself, rather than extracting fossil fuels or reusing resources. These operations have not yet reached the mainstream, but there is considerable potential for this energy to be developed into a fossil fuel replacement and we expect it to become a major contributor to the resolution of energy and environmental issues raised in SDGs.
The Alliance to Become an SDGs Future City
Last year, Tsukuba was the only city in the Ibaraki Prefecture to be selected as an SDGs Future City. This also raises public interest in SDGs.
There are many parts of the CIVIC Project included in the city's Tsukuba SDGs Future City Leadership Project that overlaps with Tsukuba 3E Forum activities.
Moving forward, we must get these endeavors in step with each other to progress.