Application for SDGs Communication Month (University of Tsukuba members' page)
Dear students, faculty and staff of the University of Tsukuba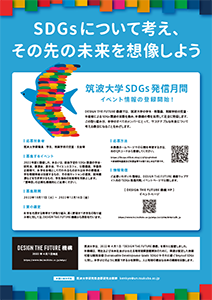 The SDGs Communication Month is an initiative to collect information on SDG-related events organized or engaged in by students, faculty, staff, and others at the University, and to disseminate it widely to society using the Organization for DESIGN THE FUTUR, as well as to share information and understanding among the various members that make up the University of Tsukuba.
We encourage you to submit your plans for the "Soho-sai" held in November.
We will publish the applied information in the event information on this website by the end of each week.
■Publication address
Japanese https://www.osi.tsukuba.ac.jp/sdgs/archives/eventinfo_jp
English  https://www.osi.tsukuba.ac.jp/sdgs/archives/eventinfo_en
■Target information
SDG-related conferences, seminars, lectures, exhibitions, science cafes, open lectures, school festival projects, etc. that have been held or will be held in FY2022 and that are held at the University or organized by the University's faculty, staff, students, or other related parties, or other activities such as session management, invited lectures, and student-led activities are eligible.
■Application period
Tuesday, October 11, 2022 – Friday, December 16, 2022
■How to apply
Please register using the form at the URL below.
https://forms.office.com/r/nfQuqPdSw2
■Selection of Awards
The DESIGN THE FUTURE Organization will present awards to notable initiatives that are representative of the University, and to student initiatives that are highly commendable.
■Contact information
Division of Research System Development, Department of Research Promotion
kenkyo[at]un.tsukuba.ac.jp
Please change [at] to @.