EFFORTS OF UNIVERSITY OF TSUKUBA
Efforts of University of Tsukuba
Project
Building Family-Friendly campus using our own capacity
Summary
We are a group of students who are trying to contribute to building a child-rearing friendly environment on the campus. Keeping a balance between study at graduate school and raising a child at the same time. is the biggest challenge not only for the International students but also for local students.
To achieve the goals of the SDGs, we are working on eliminating inequity societies due to the burden of raising children while the study. The University of Tsukuba advocates being one of the Top Global University Project by the Japanese Government, the number of international students and researchers are rapidly increasing in recent years.
Therefore, for the students study while raising children is in an unfamiliar society, moreover, adjusting to a new culture with new living environment might be the biggest challenge not only for international but also for local students. So we are initiating a possible variation of a child-friendly society on the campus using students capacity.
Sometimes students could not attend their seminar or subject and other academic activities due to child-rearing conditions. Therefore a possible solution could make student mothers community and study with child corner. In the special place, mothers can study with their children without anxiety if they need. Mothers or some undergraduate students who will work with children in the future can join in this project.
Finally, we could reach the goal as Family-Friendly Campus in order to achieve the SDGs by searching for
mechanisms that make society easier to live and enable everyone to pursue happiness.
(2019 Tsukuba Action Project)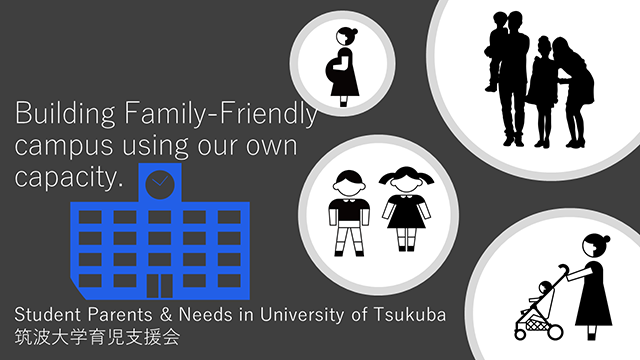 Our website, Student Parents and Needs
https://yoyoinoyui.wixsite.com/tsukubamamastudent/about-us
Main member
Assistant Professor, Faculty of medicine
KITAHARA Yui
Graduate School of Comprehensive Human Science, University of Tsukuba
Gerelmaa GUNSMAA
Graduate School of Comprehensive Human Science, University of Tsukuba
TAKIZAWA Patcharapim
Graduate School of Comprehensive Human Science, University of Tsukuba
Ishak Halim OCTAWIJAYA
Graduate School of Comprehensive Human Science, University of Tsukuba