EFFORTS OF UNIVERSITY OF TSUKUBA
Efforts of University of Tsukuba
Project
Creation of a Place of Learning Open to the Community with the SDGs
Summary
Our group conducts activities to create a place of learning where students at all three levels can interact with various people and develop their thinking. We have planned events and workshops for students at all three levels in the past (under the aegis of T-ACT (Tsukuba Action Project) on the planning).
Our group also implemented SDG-related events. For the event on "17 Goals That Everybody Should Know Now" for elementary school students, we wanted elementary school students to know SDGs and to get them to think of their next actions through SDGs. Members of the society who are interested in SDG-related initiatives also came to observe this event in addition to elementary school students in Ibaraki.
From now on, we would like to create events not only for students at all three levels but also for local people to join to deepen understanding of SDGs. We want more people to know SDGs amid the creation of places for exchange open to the community centering around SDGs.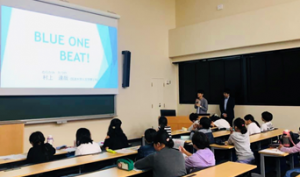 ●T-ACT website
 BLUE ONE BEAT!2019 : https://www.t-act.tsukuba.ac.jp/project/view/?seq=403
●Tsukuba SDGs partners
  "17 Goals That Everybody Should Know Now", an Event for Elementary School Students:
     https://www.tsukuba-sdgs.jp/page/page000081.html
Main member
Associate Professor , Faculty of Human Sciences
MURAKAMI Tatsuya
School of Humanities and Culture / College of Humanities
TAKAMATSU Yuzuko
School of Humanities and Culture / College of Japanese Language and Culture
NAOI Souta
School of Human Sciences / College of Education
ANDO Moeka
School of Humanities and Culture / College of Humanities