EFFORTS OF UNIVERSITY OF TSUKUBA
Efforts of University of Tsukuba
Project
Research on Achieving Neurodiversity in Higher Education
Summary
Recently, the term "developmental disabilities" has become commonly known, but the concept of neurodiversity (ND) has begun to be scientifically advocated. This concept means that no one suffers from developmental disabilities, instead supposing that the brains of all people are fundamentally diverse. Therefore, we must construct a new support framework that recognizes "disabilities from a social perspective (social model)", difficulties of people with varying developmental characteristics who receive higher education or employment support
The objective of this research unit (RU) is the construction of a model to take students with any kind of non-visible disability, such as developmental disabilities, regardless of medical diagnosis, and provide training that allows every single one of them to be active in society. Based on the concept of ND, we appropriately evaluate (assess) the neurological diversity of students who have difficulties in student life or participation in society, then investigate, develop and disseminate support methods that help them grow and allow them to be active in society (see the figure below).
The core organization of this research is the University of Tsukuba Center for Diversity, Accessibility and Career Development (DAC), and it is here that student assessments and support models are developed and deployed. We also promote societal implementation of developed support tools in cooperation with other universities, companies and people with developmental disabilities.
Research activities at RU until the present have led to the development of the Learning Support Book (LSB), support information web service is distributed to educators at 45 universities across the country for use in educational activities at these universities without requiring medical diagnosis.
Moving forward, we aim to construct a model in line with both global and Japanese culture through higher education and employment support condition surveys while carrying out research and development of support methods.
References
DAC Center website: http://dac.tsukuba.ac.jp/
Learning Support Book: https://tsukuba-access.e-manager.jp/index/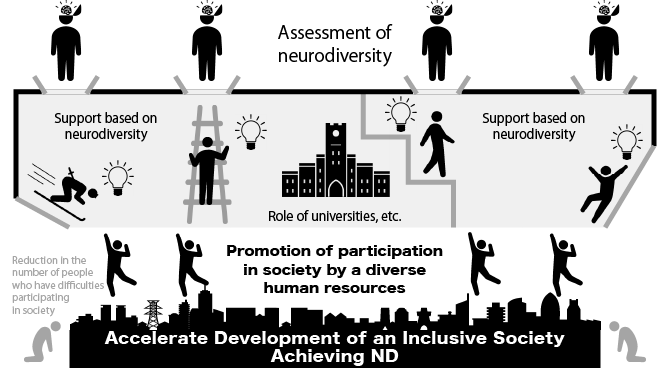 Company
Research for Support of Students with Disabilities in Higher Education
Main member
Professor, Faculty of Human Sciences
Professor, Faculty of Art and Design / DAC Center Chairperson
Professor, Faculty of Human Sciences
TAKAHASHI Tomone
Professor, Academic Assembly, School of Humanities and Social Sciences, Institute of Education, Shinshu University
Associate Professor, DAC Center