EFFORTS OF UNIVERSITY OF TSUKUBA
Efforts of University of Tsukuba
Project
Tertiary battery charged by environmental heat – Sensor power supply that realizes Society 5.0
Summary
Energy Harvesting Technology is used to harvest and convert various forms of common, low-density energy such as sunlight, other illumination, mechanical vibrations and heat, into electrical energy. This technology produces clean electrical energy that does not emit greenhouse gases, so it is expected to contribute to global warming countermeasures while also reducing energy consumption through reusable energy.
Dissemination of this Energy Harvesting Technology into every aspect of society is indispensable to the creation of new technology that converts temperature changes in nearby rooms (for example, difference in temperature between day and night, sunny and shaded areas, addition or removal of clothing, etc.) into electricity at low cost.
Therefore, the University of Tsukuba research group proposed a thermal power generation cell as a technology for temperature change conversion to electricity. This cell has thin, easy-to-miniaturize elements and is low cost in addition to other incredible performance. Moving forward, we will work towards achieving target performance for social implementation of the thermal power generation cell, endeavoring to improve the device performance through efforts such as construction of an academic foundation that clarifies the physical meaning of the temperature coefficient of the electromotive force, a parameter that determines thermal power generation cell performance, and increasing difference between the thermoelectromotive force coefficients of the positive and negative electrodes proportional to thermal efficiency.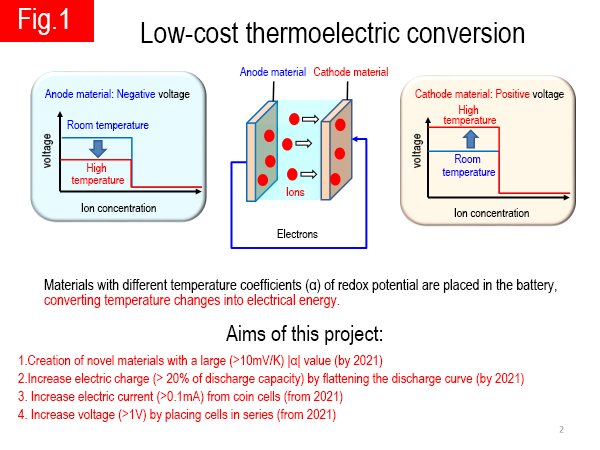 Main member
Professor, Faculty of Pure and Applied Sciences