EFFORTS OF UNIVERSITY OF TSUKUBA
Efforts of University of Tsukuba
Project
Development and Application of a Multi-megawatt Microwave Source in the Extremely High Frequency Region
Summary
In this research, we are developing a gyrotron, which is an extremely high frequency microwave generator. Gyrotrons are useful power source to heat the nuclear fusion plasmas which have ultra-high temperature exceeding 100 million degrees. Recently, in addition to nuclear fusion energy development they are also expected to use in microwave rocket applications. Microwave rockets take flight through energy supplied from the ground by microwave beams. Gyrotrons are thought of as a source for these beams. These microwave rockets have the potential to achieve significant reductions in launch costs compered to conventional rockets, and are expected to development.
Currently, a gyrotron output power is 1MW (megawatt) level. If we develop a multi-megawatt level gyrotron and can build a microwave beam base of the GW (gigawatt) level, the feasibility of microwave rockets will be greatly progressed.
Recently, NASA and other organizations have great interest in the microwave rocket technology. Gyrotron development has been performed by a research group of the University of Tsukuba for more than 30 years and many good results have been achieved. The progress of this research fully utilized the strength of the university is expected to the development of not only nuclear fusion energy but also the space, such as the enabling globally equitable use of space microwave beam bases.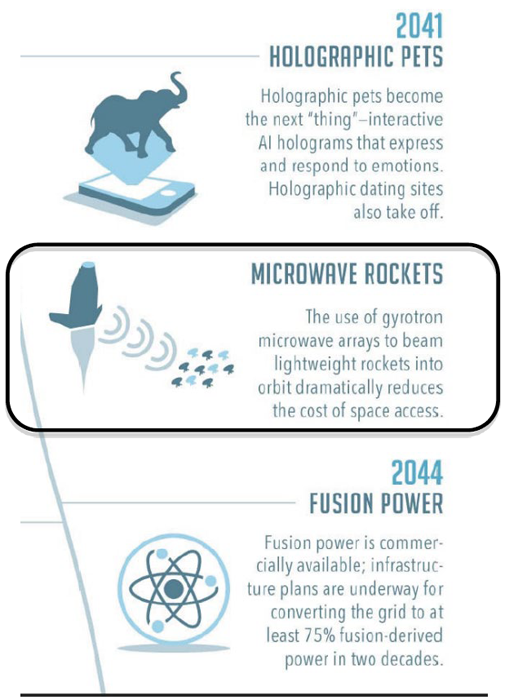 Quote source:Visual Capitalist, Infographic: A Timeline of Future Technology
http://www.visualcapitalist.com/timeline-future-technology/?utm_source=email&utm_medium=social&utm_campaign=SocialWarfare
Gyrotron development website: https://www.prc.tsukuba.ac.jp/
Main member
KARIYA Tsuyoshi
Associate Professor, Faculty of Pure and Applied Sciences
MINAMI Ryutaro
Associate Professor, Faculty of Pure and Applied Sciences
IMAI Tsuyoshi
Professor Emeritus, Faculty of Pure and Applied Sciences
KOMURASAKI Kimiya
Professor, Graduate School of Engineering, The University of Tokyo
SHIMAMURA Kohei
Assistant Professor, Faculty of Engineering, Information and Systems