EFFORTS OF UNIVERSITY OF TSUKUBA
Efforts of University of Tsukuba
Project
Basic Research for Development of New Treatment Methods for Chronic Kidney Disease
Summary
The percentage of the population who suffer from chronic kidney disease has risen to 10% worldwide, with over 13 million people in Japan alone. While two million who suffer from CKD worldwide receive dialysis and kidney transplant, the number is not even 10% of the total requiring treatment. In Japan, roughly 300,000 people undergo dialysis, which reduces the quality of the patient's life as well as leaving the country with a one trillion-yen economic burden annually. However, kidney function is extremely difficult to restore once deteriorated, so fundamental development of early detection and treatment methods for prevention and halting the progression of CKD are imperative.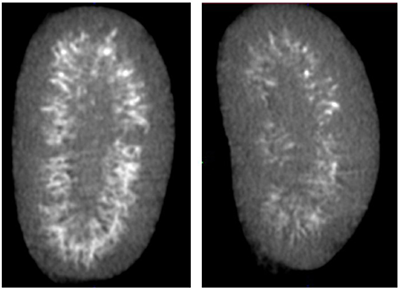 Renal calcification (left) and recovery through Fbln7 deficiency (right).
At the Life Science Center for Survival Dynamics, Tsukuba Advanced Research Alliance, we focused on Fibulin 7 (Fbln7), a heparin-binding secreted factor that is highly expressed in renal tubular cells, and discovered that Fbln7 binds to a glycoprotein group called glycocalyx covering the outer layer of renal tubular cells. Calcification induced by chronic diseases such as diabetes, arteriosclerosis, and CKD, is known to be an important prognostic indicator. We discovered that Fbln7 becomes the core cause of deposition of calciprotein particles (CPP) on renal tubular cells and promoting calcification*.
Additionally, we found that in the Fbln7 deficient mice, renal calcification is clearly suppressed and inflammatory reaction around the renal tubule was reduced compared to wild mice upon high phosphorus diet. Our study showed that inhibiting Fbln7 suppresses advancement of CKD, confirming the proof of principle that anti-Fbln7 therapy is an effective treatment for CKD**. Moving forward, we are working toward establishing early-stage treatment for CKD by developing low molecular weight inhibitors and inhibitory antibodies for Fbln7. We will also utilize a lectin-like property of Fbln7, which is to bind glycocalyx, and take full advantage of the high sensitivity lectin array developed by researcher Hiroaki Tateno of the National Institute of Advanced Industrial Science and Technology (AIST), as well as other new technologies to identify Fbln7 binding proteins. We aim to clarify the molecular mechanisms of ectopic calcification.
*J. Tsunezumi, H. Sugiura, L. Oinam, A. Ali, B.Q.Thang, A. Sada, Y. Yamashiro, M. Kuro-O, and H. Yanagisawa: Fibulin-7, a heparin binding matricellular protein, promotes renal tubular calcification in mice. Matrix Biol, 2018 In Press. doi: 10.1016/j.matbio.2018.04.014.
**Scheduled for publication on the Mizutani Foundation for Glycoscience website
Main member
Professor, Life Science Center for Survival Dynamics
TATENO Hiroaki
Chief Senior Researcher, National Institute of Advanced Industrial Science and Technology
SUGIURA Hidekazu
Assistant Professor, Tokyo Women's Medical University
TSUNEZUMI Jun
University of Texas Southwestern Medical Center