EFFORTS OF UNIVERSITY OF TSUKUBA
Efforts of University of Tsukuba
Project
Recycling activities using disposable contact lenses
Summary
The empty cases of disposable contact lenses are all made of polypropylene, regardless of manufacturer, and are very suitable for recycling. Therefore, we participated in the "Eye City eco project" conducted by the contact lenses specialty store "Eye City" and set up boxes to collect empty cases of disposable contact lenses on the campus of the University of Tsukuba until the end of September 2021.
Through this activity, we can contribute to solving the plastic waste problem, which is becoming more serious year by year, and achieving the SDGs. In addition, this activity will be used to support the independence and employment of people with disabilities, and to restore the eyesight of people with visual impairment due to corneal diseases.
Collection boxes are set up at various locations within the university campus, such as the Kasumi University of Tsukuba store, Global Village, Ichinoya Student Dormitory, and each university cafeteria. We would appreciate it if you could use the collection box near you and cooperate with us as much as possible.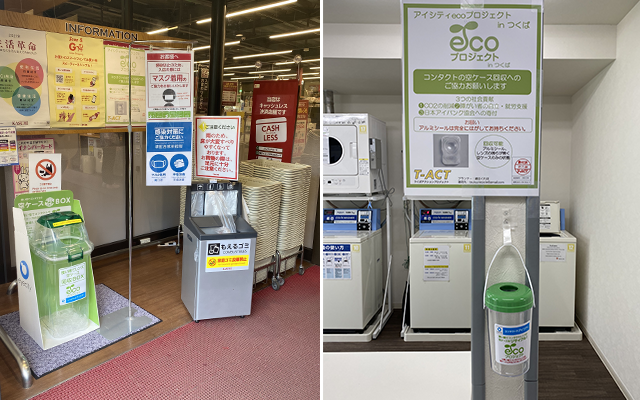 Company
Eye City eco project in Tsukuba
Main member
Associate ProfessorFuculty of Medicine
ODA Kureha
School of medicine and Health Sciences, College of Nursing
KOZU Ayumi
School of Life and Environmental Sciences, College of Agro-Biological Resource Scienses
SHIMOJI Rion
School of Human Sciences, College of Psychology
MIZUTANI Natsuno
School of Human Sciences, College of Education